Bahama Breeze, Hughes Center Drive, Las Vegas, NV, USA
Location: Bahama Breeze, Hughes Center Drive, Las Vegas, NV, USA
Report Type: Food Poisoning
Symptoms: Nausea Vomiting
Details: Seafood paella , Ate at babama breeze for the first time last night. Amazing service and amazing food! I ordered the baby back ribs, Spinach dip, and the Seafood paella. However, this morning I woke up out of my sleep around 4am because my stomach was hurting and I felt nauseous. Over the next few hours, I vomited 4 times & the contents were everything I ate last night.
Reported By: Iwaspoisoned.com User
More incidents from: Bahama Breeze United States Nevada Las Vegas
Number of reports: 1
---
Comments
RECENT REPORTS
Location: Bahama Breeze, E Altamonte Dr, Altamonte Springs, FL, USA
Report Type: Food Poisoning
Symptoms: Diarrhea Nausea Vomiting
Details: My rwo adult daughtersxand I ate dinner at the Altamonte Springs location. We have eaten here before and enjoyed it. We all had different dishes, however we split the Breeze Cheese Bites. As we were walking to our car we all started complaining of not feeling well. It was a long night of multiple bathroom trips for each of us and I called out of work.
Comments >>
---
Location: Bahama Breeze, International Drive, Orlando, FL, USA
Report Type: Food Poisoning
Symptoms: Diarrhea
Details: Lobster quesadilla , A student and myself both had the Lobster and Shrimp Quesadilla yesterday. We both had diarrhea all night andninto the morning. I only had a Bagel that morning for breakfast and the Lobster Quesadilla with conch fritters for lunch. 6 hours later I had explosive diarrhea.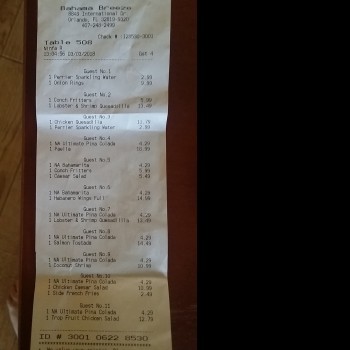 Comments >>
---
Location: Bahama Breeze, US Highway 1, Princeton, NJ, USA
Report Type: Food Poisoning
Symptoms: Diarrhea Fever Nausea Vomiting
Details: Chicken Quesadilla ,
Doctor Visit: Yes
Diagnosis: Salmonella
Comments >>
---