Thank you for your report!
IMPORTANT - YOUR REPORT IS QUEUED - IT MAY TAKE UP TO 12 HOURS FOR YOUR REPORT TO SHOW ON OUR HOME PAGE (IF NOT OPTED AS PRIVATE)
If your report is poison related call 1-800-222-1222 for a free consultation with a live medical poisoning expert

Visit our learn pages for more helpful information or, email us: support@iwaspoisoned.com
Goodbye! and best wishes in your recovery
Food poisoning symptoms can depend on a lot of factors
Food poisoning symptoms may range from mild to severe and can differ significantly depending of the contaminant, according to the U.S. Centers for Disease Control and Prevention (CDC). The most common symptoms of food poisoning are:
Upset stomach
Stomach cramps
Nausea
Vomiting
Diarrhea
Fever
After you consume a contaminated food or drink -- especially if it is a chemical contaminant -- you may show symptoms of poisoning immediately. With some biological contaminants, it may take hours or days before you develop symptoms of food poisoning. If you believe you are suffering from a foodborne illness, please report it to IWasPoisoned.com.
Common signs of food poisoning
Common signs of food poisoning are nausea, vomiting, stomach cramps and diarrhea. However, symptoms may differ among the different types of foodborne diseases. Symptoms can sometimes be severe and some foodborne illnesses can even be life-threatening. Anyone can get a foodborne illness, but people in these categories are more at risk of the severe or long-term impacts:
Pregnant women
Young children
Older adults
People with immune systems weakened from medical conditions, such as diabetes, HIV/AIDS, or from receiving chemotherapy or radiation treatment.
Many people with food poisoning get better without medical treatment, but people with severe symptoms should see their doctor.
Complications From Food Poisoning
Many cases of food poisoning result in a mild illness that lasts a few hours or several days. However some people need to be hospitalized and/or have illnesses that result in long-term health problems (insert: https://www.foodsafety.gov/poisoning/effects) or even death. Infections transmitted by food can result in chronic arthritis, brain and nerve damage, and hemolytic uremic syndrome (HUS), which causes kidney failure.
When to See a Doctor for Severe Food Poisoning
If you experience symptoms of food poisoning, such as diarrhea or vomiting, drink plenty of fluids to prevent dehydration, according to the CDC. See your doctor or healthcare provider if you have symptoms that are severe, including:
High fever (temperature over 101.5°F)
Blood in stools
Frequent vomiting that prevents keeping liquids down
Signs of dehydration, including a marked decrease in urination, a very dry mouth and throat, or feeling dizzy when standing up.
Diarrhea that lasts more than 3 days
---
For more information about:
Recalled Food
If you have food poisoning and want to check recently recalled foods, please visit this page: Active Recalls
Current Multistate Food Poisoning Outbreaks
Here is a list of current foodborne illness outbreaks.
When two or more people get the same illness from the same contaminated food or drink, the event is called a foodborne or food poisoning outbreak. Reporting illnesses to your local health department helps them identify potential outbreaks of foodborne disease. Public health officials investigate outbreaks to control them, so more people do not get sick in the outbreak, and to learn how to prevent similar outbreaks from happening in the future.
Recent Interesting Reports
Symptoms:
Nausea
Diarrhea
Vomiting
Other
Nausea
Other
Headache
Sweating
KFC Hervey Bay, Boat Harbour Drive, Urraween QLD, Australia
June 4, 2021 8:51 PM
"Last night we ordered online at 5pm- got delivered at 5.28 - $45 meal. A rare treat. The 19.95 cheap as chips bucket and a double bacon stacker burger. When it came I sorted it out chips and nuggets for my YOUNG kids and BABY, chicken, burger and chips for my husband and chicken and chips for me. No...

See More

w I opened the chicken got myself and it had all sh* pieces, the thick dry pieces, old you could tell it was old and dry, I ate a tiny bit of the skin and through it all in the bin and was mad. My husband ate his burger and a piece of chicken, which was EXTREMELY dry, and I said how was yours? He said really dry and s*t. The chickens old even in the burger. I threw out my chicken and raged about the price and how inedible it was. About an hour later at 6.30 he said his belly was sore, within another half an hour he was really sick, cold sweats, nausea, diarrhoea ect. I put him in bed with a heat pack on his stomach. He said it was definitely food poisoning as he'd had it twice beforehand over the years. This is his second time from this place. The next morning he still couldn't keep food down or much fluids as his stomach wouldn't accept it had a servere headache and temperature. Went to the doctor and confirmed good poisoning. I'm disgusted and furious, as my young children could of been seriously sick, my 12 month old baby could have died, my 4 year old and my 6 year old son who have low immune systems could have ended up in hospital. Because of pure laziness and neglect in the food department. Working with chicken it should never happen. And they should be very careful. I'm disappointed and very mad at the situation and how dangerous it is and how much more dangerous it could have been for my kids. Won't be going back and I except to to be sorted . I've heard to many times of others getting sick from here and it's just not on. Busy or not, cool fresh.

See Less

"
Symptoms:
Nausea
Diarrhea
Vomiting
Other
McDonald's, 88-14 Springfield Blvd, Queens, NY 11427, USA
June 14, 2021 7:49 PM
"my 11 years old, 20 years old and myself we ate there last night arround 8 to 9 pm
i ordered 20 pcs chicken nuggets, fillet o fish 4 mc chicken Sand wishes.we are not feeling well at all.
last night

See Less

"
June 3, 2021 11:16 PM
"The CFIA announced the recall of Searay brand Thailand Black Tiger Shrimp Size 31-40 by Searay Foods Inc. because they contain sulphites which are not declared on the label. There have been no reported reactions associated with the consumption of these products.

The following products are subjec...

See More

t to recall:

- Searay Thailand Black Tiger Shrimp (Raw Headless Deveined) Size 31-40 (454 g), UPC 8 27510 00007 4, Production Date: 2020/09/21 Best Before 2022/09/21 Lot Number: 2008312THL
- Searay Thailand Black Tiger Shrimp IQF Headless Shell-On (Deveined) Size 31-40 (20 packs x 454 g), UPC: 1 08 27510 09382 0, Production Date: 2020/09/21 Best Before 2022/09/21 Lot Number: 2008312THL

These products were distributed in Alberta, British Columbia, and Ontario. Consumers that are sensitive to sulphites should not consume these products.

In case you are experiencing food poisoning symptoms, it is important to report it. It can help to detect & resolve outbreaks early and prevent others from being harmed, and it enables better surveillance.

Check the full recall details on the CFIA website: inspection.canada.ca

Source: CFIA

See Less

"

June 4, 2021 11:26 PM
"The CFIA announced the recall of triple Crown brand Black Tiger Shrimp by Midland Food Products Inc. because it contains sulphites which are not declared on the label.

The following product is subject to recall:

- Triple Crown Frozen black tiger shrimp raw E-Z peel headless shell-on, 26/30 (6...

See More

80 g), UPC: 0 64048 85007 2, Code: 03/07/20

This product was distributed in Ontario to Hotel/Restaurant/Institutional and retails. Consumers that are sensitive to sulphites should not consume these products.

In case you are experiencing food poisoning symptoms, it is important to report it. It can help to detect & resolve outbreaks early and prevent others from being harmed, and it enables better surveillance.

Check the full recall details on the CFIA website: inspection.canada.ca

Source: CFIA

See Less

"
Symptoms:
Nausea
Diarrhea
Vomiting
Other
COAST restaurant, Alberni Street, Vancouver, BC, Canada
May 30, 2021 1:37 PM
"Got sick within one hour of consuming contaminated food. I had mussels, dungeon crab, salmon sushi rolls, mimosa, and one bud light beer.

See Less

"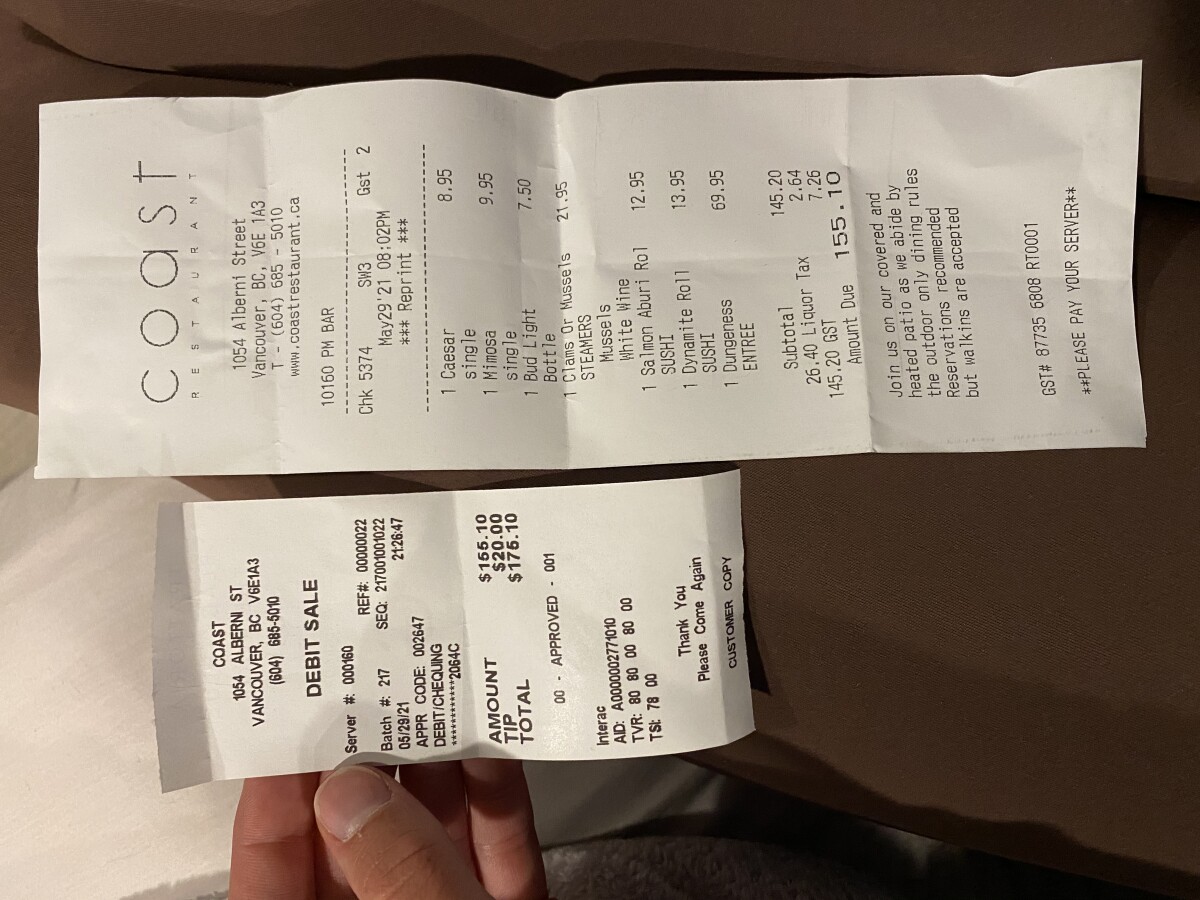 Helpful
1 person found this review helpful
Symptoms:
Diarrhea
Nausea
Vomiting
Sonic Drive-In, Texas 274, Kemp, TX, USA
June 1, 2021 6:18 PM
"Food I believe 2
This morning
The bag didn't look like their bag, and the straw in our drink was freaky big. The only thing that proved it was there was the ticket and the cup. My son is still sick puking his guts up.

See Less

"
Costco Wholesale, Peyton Drive, Chino Hills, CA, USA
June 9, 2021 8:40 PM
"I bought Azuna Seaweed Salad yesterday when I saw it at this place. I decided to have some today, that was a horrible idea. I now have nausea that's refusing to go away. Please don't buy the Azuna Seaweed Salad.

See Less

"
Helpful
1 person found this review helpful
Symptoms:
Nausea
Diarrhea
Vomiting
Other
Stomach Pain
Burger King, Central Avenue, Clark, New Jersey, USA
June 14, 2021 6:27 PM
"I ordered a Junior whopper with french fries and jalapeño poppers I don't know which one of those might've got me sick but hours later I fell asleep and woke up with stomach pain I had to go to my Doctor. stomach was not only in pain it was burning I had constipation I feel nauseous I puked up bile....

See More

I hardly am able to eat.

See Less

"
Symptoms:
Nausea
Diarrhea
Vomiting
Other
Diarrhea
Nausea
Cramps
Body Ache
Muscle Pain
Taco Bell, 4923 Lee Hwy., Arlington, VA 22207, USA
May 20, 2021 6:35 AM
"May 18th 2:49 pm. I purchased and drank a strawberry lemonade freeze. As I drank, it tasted off, like a cleaning product. Maybe they had just cleaned the machine and didn't rinse it out properly.
It wasn't ok. I woke up at around 4:30 am the next morning, with severe nausea, and diarrhea. My mus...

See More

cles, particularly in my legs, and lower back ached, my whole body hurt. I had to hurry to the toilet, to basically pee out of my butt. Around 5 am I puked up everything. I could see there was still the soft shell tortilla undigested in my vomit, even though I had eaten their food around 15 hours prior it was still undigested in my stomach. drank water, puked again, drank more water puked a third time, until it was clear. The diarrhea continued through the day. Now, it's the day after that and I do feel much better, but my body still aches all over and my bowls are painfully cramping.

See Less

"
Helpful
2 people found this review helpful
Symptoms:
Nausea
Diarrhea
Vomiting
Other
IHOP, Long Prairie Road, Flower Mound, TX, USA
June 9, 2021 1:58 AM
"pancakes
we feel like we're dying pls send refund

See Less

"