Thank you for your report!
IMPORTANT - YOUR REPORT IS QUEUED - IT MAY TAKE UP TO 12 HOURS FOR YOUR REPORT TO SHOW ON OUR HOME PAGE (IF NOT OPTED AS PRIVATE)
If your report is poison related call 1-800-222-1222 for a free consultation with a live medical poisoning expert

Visit our learn pages for more helpful information or, email us: support@iwaspoisoned.com
Goodbye! and best wishes in your recovery
Often lasting several days, the length of food poisoning will depend on several factors like the kind of bacteria or virus you contracted, and the state of your immune system.
Signs and symptoms can begin several hours after eating the contaminated food, but they can also have a latency period of a few days, or even weeks, later.
Vibrio symptoms typically take 1 to 4 days to appear, E. coli 3 to 4 days, and Campylobacter 2 - 5 days. However, Staph symptoms typically appear within 30 minutes to 6 hours, while Listeria symptoms can take 1 to four weeks to appear.
Seek medical attention from your doctor or healthcare provider to learn more about foodborne disease diagnosis.
Recent Interesting Reports
May 28, 2021 11:00 PM
"Company name: Marquis Worldwide Specialty Inc
Brand name: Marquis Worldwide Specialty Inc
Product recalled: Organic Enoki mushrooms
Reason of the recall: Potential L. monocytogenes contamination.
FDA Recall date: May 28, 2021
Recall details: Marquis Worldwide Specialty Inc of City of Industry,...

See More

CA is recalling All of the Organic Enoki Mushroom 200g, because it has the potential to be contaminated with Listeria monocytogenes, a bacterium which can cause life-threatening illness or death. Consumers are warned not to use the product even if it does not look or smell spoiled.

Listeria monocytogenes can cause serious and sometimes fatal infections in young children, frail or elderly people, and others with weakened immune systems. Although healthy individuals may suffer only short-term symptoms such as high fever, severe headache, stiffness, nausea, abdominal pain and diarrhea, Listeria infection can cause miscarriages and stillbirths among pregnant women. People experiencing these problems should seek immediate medical attention.

Organic Enoki mushroom 200g was distributed nationwide from California and it reached to consumers through retail stores and other produce wholesalers. It is packed by each 200g individual plastic package and the package is clear on top and orange on the bottom part. It has 'Conah Organic enoki mushroom' written on front. The mushroom is white and has almost no smell. As it is vegetable, it does not have a clear date of expiration. No illnesses have been reported to date in connection with this problem.

Consumers who have purchased 200g packages of 'Conah Organic Enoki Mushroom' are urged to return them to the place of purchase for a full refund.

Check the full recall details on fda.gov

Source: FDA

See Less

"
Symptoms:
Diarrhea
Nausea
Vomiting
Foodtown of Valley Cottage, Valley Cottage, NY, USA
May 28, 2021 12:05 AM
"The cake we baught was full of green mold 1 i ate a piece of cake and and hour later i was spewing from both ends
This evening

See Less

"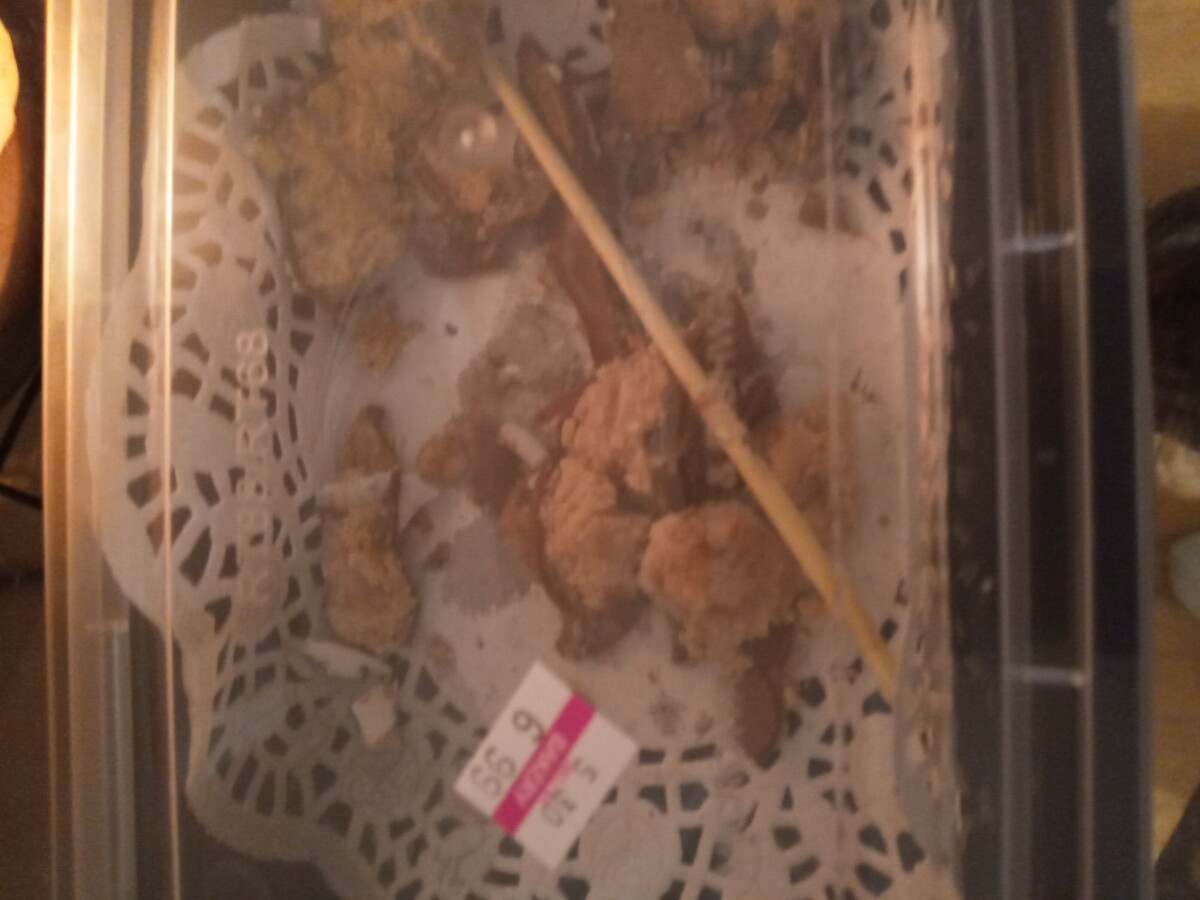 The Mustard Seed Restaurant, East Main Street, Fredonia, Chautauqua, NY, USA
May 24, 2021 11:28 PM
"The Chautauqua County Health Department is warning customers who ate food at or consumed takeout food from The Mustard Seed Restaurant located at 31 E Main Street Fredonia, NY, between April 1 and May 19, 2021, were potentially exposed to hepatitis A. Because of that, they advised people who may ha...

See More

ve been exposed should receive treatment to prevent infection, considering that most people do not get sick when an employee at a restaurant has hepatitis A, but there is still a risk.

The hepatitis A vaccine or immune globulin is only effective within two weeks of exposure to the virus. People who ate at The Mustard Seed Restaurant between May 8 and May 19 (and have not been previously vaccinated against hepatitis A) should receive the hepatitis A vaccine or immune globulin as soon as possible.

The Chautauqua County Health Department staff conducted a thorough inspection of the restaurant and cleared them to reopen on May 20. There is no risk of eating there at this time.

If you are experiencing Hepatitis A symptoms, it is important to report it. It can help to detect & resolve outbreaks early and prevent others from being harmed, and it enables better surveillance.

Check for more details on: chqgov.com

Source: chqgov.com

See Less

"

Symptoms:
Nausea
Diarrhea
Vomiting
Safeway, South Broadway, Walnut Creek, CA, USA
May 20, 2021 1:44 PM
"I got violently sick. Pretty certain the source was cashews bought from there

See Less

"
Symptoms:
Nausea
Diarrhea
Vomiting
Walmart, Collins Road, Jacksonville, FL, USA
May 18, 2021 8:18 AM
"I purchased lettuce cucumber onion and tomato to make a salad for dinner. I WASHED everything before I made my dinner. The lettuce and cucumber tasted funny so I did not finish my salad. In less than an hour I threw it all up and was up and down in the bathroom for the remainder of the night. I stil...

See More

l have the lettuce and cucumber and I would love to have it tested.

See Less

"
Helpful
1 person found this review helpful
May 29, 2021 11:01 PM
"Company name: California Terra Garden Inc.
Brand name: Guan's
Product recalled: Seafood mushrooms
Reason of the recall: Potential Listeria monocytogenes contamination
FDA Recall date: May 29, 2021
Recall details: California Terra Garden Inc. of Commerce, CA is recalling all cases of its 150g/5....

See More

3-ounce packages of Seafood Mushroom (Product of China) because it has the potential to be contaminated with Listeria monocytogenes, an organism which can cause serious and sometimes fatal infections in young children, frail or elderly people, and others with weakened immune systems. Although healthy individuals may suffer only short-term symptoms such as high fever, severe headache, stiffness, nausea, abdominal pain and diarrhea, Listeria infection can cause miscarriages and stillbirths among pregnant women.

The recalled products were distributed from California through produce distributors or wholesalers to retail stores nationwide. The Seafood mushroom comes in a clear plastic package with the description "Seafood Mushroom" in English and French, and Guan's logo in the front. At the back, there is UPC code, 859267007501. Product code is 3460 at the back top right. No illnesses have been reported to date in connection with this problem.

The potential for contamination was noted after routine testing by California Health Department revealed the presence of Listeria monocytogenes in one 150g package of Seafood mushroom. The distribution of the product has been suspended.

Consumers who have purchased any package of Seafood mushroom are urged to return them to the place of purchase for a full refund.

Check the full recall details on fda.gov

Source: FDA

See Less

"
Symptoms:
Nausea
Diarrhea
Vomiting
Other
Diarrhea
Nausea
Vomiting
Cramps
Chills
Sweating
Kroger, East Pipeline Road, Hurst, TX, USA
June 11, 2021 2:42 PM
"I bought fried chicken from. the deli. I ate 2 legs as soon as I brought it home- it didn't sit out. About an hour later I got severe cramps, intense nausea, followed by an entire night of vomiting repeatedly as well as diarrhea, cold sweats and chills.

See Less

"
Symptoms:
Diarrhea
Nausea
Vomiting
WinCo Foods, South Progress Avenue, Meridian, ID, USA
May 24, 2021 7:01 PM
"Cambells chunky soup in a can  Cooked Campbell's chunky soup Chicken broccoli cheese with potato And Wesson approximately 30 minutes was with nausea puking and diarrhea. It is the only thing I live in and I was feeling fine prior to that so something is wrong with it 
5/24

See Less

"
Symptoms:
Diarrhea
Diarrhea
Baskin-Robbins, East Foothill Boulevard, Pasadena, CA, USA
May 26, 2021 10:04 AM
"I had a medium sized gold ribbon milkshake. May 25 in the afternoon. Within an hour after drinking half of the milkshake I had horrible diarrhea.

See Less

"
May 18, 2021 8:00 PM
"Company name: WH Smith
Product recalled: Simpleas Sea Salt and Balsamic Vinegar Pea Snacks
FSA Recall date: 05/18/2021
Recall details: WH Smith is recalling Simpleas Sea Salt and Balsamic Vinegar Pea Snacks because they contain barley, oats and wheat (gluten) which are not mentioned on the label....

See More

This means the product is a possible health risk for anyone with an allergy or intolerance to barley, and/or oats and/or wheat (gluten).

- Simpleas Sea Salt and Balsamic Vinegar Pea Snacks (23g). Batch code: 119 21. Best before: 29 April 2022

If you have bought the above product and have an allergy or intolerance to barley, and/or oats, and/or wheat or gluten, do not eat it. Instead return it to the store from where it was bought for a full refund.

This product contains barley, oats and wheat (gluten) making it a possible health risk for anyone with an allergy or intolerance to barley, and/or oats and/or wheat or gluten.

Check the full recall details on food.gov.uk

Source: FSA

See Less

"
Helpful
1 person found this review helpful