As of November 1, 2019, a total of 10 people infected with the outbreak strain of Salmonella Dublin linked to ground beef have been reported from 6 states: CA, CO, IA, KS, OK, and TX. One death has been reported in California. Of nine ill people with information available, eight (89%) were hospitalized, which is much higher than we would expect for Salmonella infections.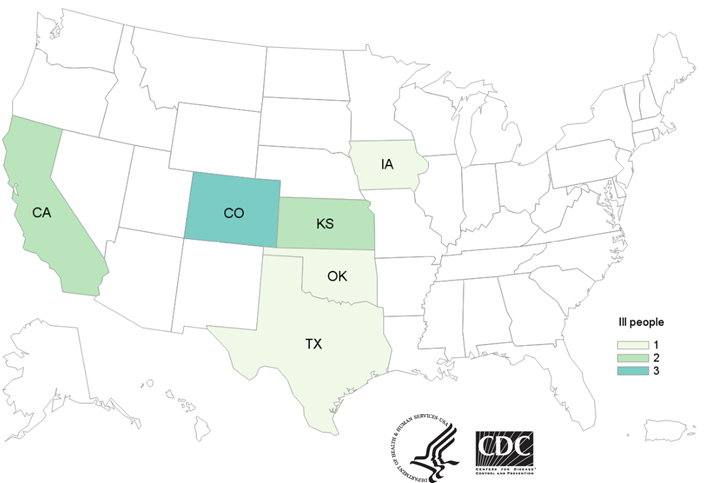 Salmonella was found in samples of blood, which indicates their illnesses may have been more severe. Typically, Salmonella Dublin illnesses are more severe because they can cause bloodstream infections, which are serious and require hospitalization A single, common supplier of ground beef has not been identified.
This investigation is ongoing and CDC will update the public as more information becomes available. CDC is not advising that consumers stop eating thoroughly cooked ground beef, or that retailers stop selling ground beef for now.
CDC list the symptoms of Salmonella as:
Infection Illustration of a person with stomach pain.
Most people infected with Salmonella develop diarrhea, fever, and stomach cramps 12 to 72 hours after being exposed to the bacteria.
The illness usually lasts 4 to 7 days, and most people recover without treatment.
In some people, the illness may be so severe that the patient needs to be hospitalized. Salmonella infection may spread from the intestines to the bloodstream and then to other places in the body.
Children younger than 5 years, adults 65 years and older, and people with weakened immune systems are more likely to have a severe illness.
For more information about this incident, go to The Food Poison Journal
To read the CDC announcement, click here