Public Health FAQ
Q. How do I get report details and the complainant contact information?
A. On our email alerts, you will receive a list of the recent reports for your jurisdiction. Clicking on the report title will give you access to full report details and contact information, as shown in the following example.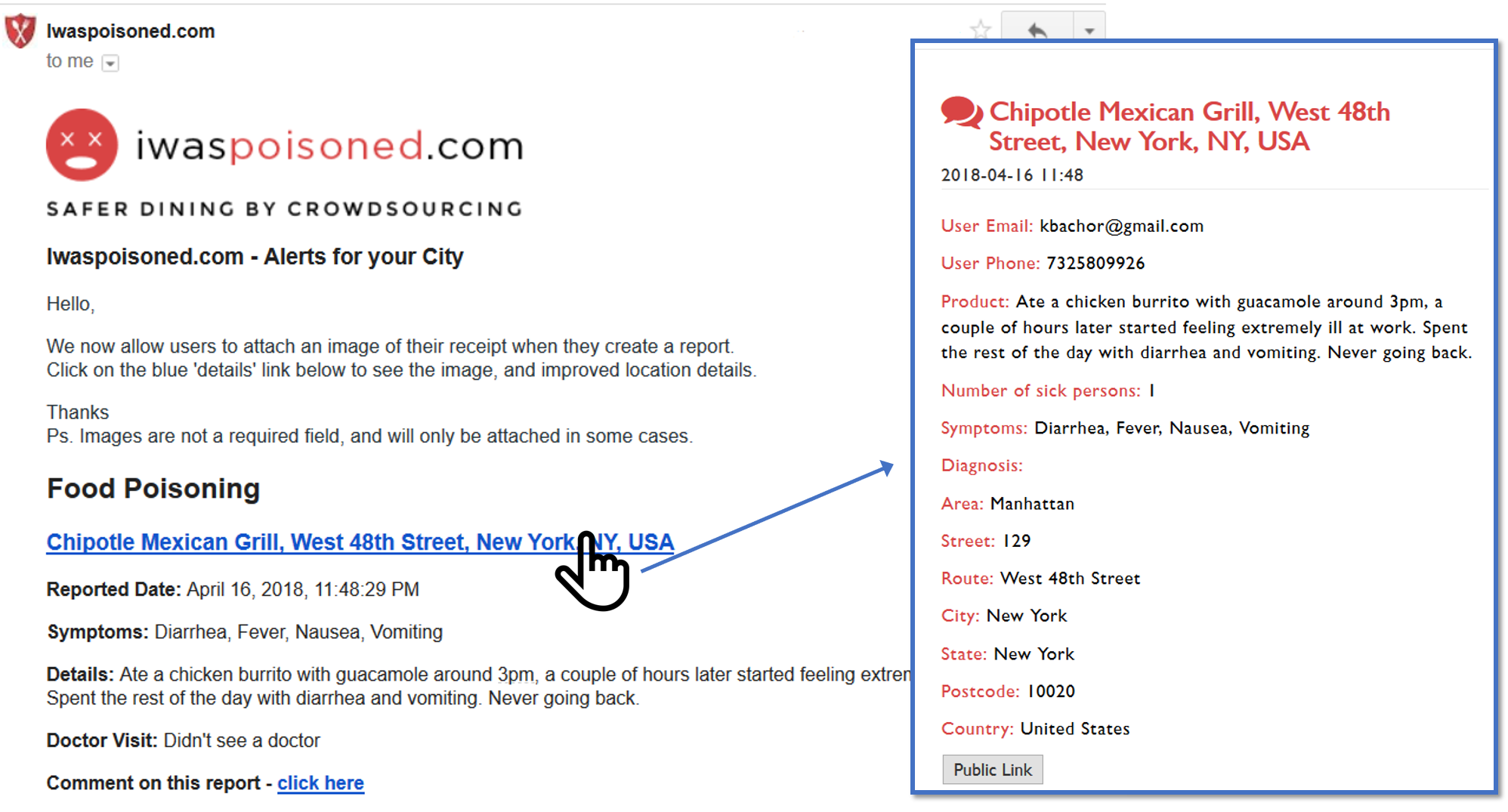 Q. Is possible to contact directly with the complainant?
A. Yes, we made aware our users during the entire reporting process that they can be contacted for public health for further investigations. In this way, once you get report details and contact information you are welcome to contact directly with complainants.
Q. How often I'm going to receive this?
A. Unless you asked to a different setting, our alerts are set to be sent daily. We consider that is a good frequency to keep you informed and your inbox clear. However, if we detect possible outbreak clusters we will reach out as soon as possible.

Q. Why the report doesn't contain contact information?
A. We have a high opt in rate of users providing contact info as we urge them at several points during the reporting process that if they do not provide contact information it is not possible for county health to follow up. However, there are times that users do not opt in to be contacted and reports does not include such information, but it still contains valuable information to outbreak detection.

Q. What to do with reports with no contact info?
A. As previously stated, in cases with no contact information, typically there is not much that can be done regarding following up directly with the complainant, except possibly consider it as a data point if other reports come in for the location over the next day or two, or directly to your agency. This can be useful to detect clusters that can indicate a bigger problem or an illness outbreak.

Q. There are reports from previous months or even years, why is that?
A. This happen when users recently discovered the website through a reference on social media or the news and wanted to report something that has happened in the past.
Q. Why do I get reports out of my jurisdiction?
A. We do our best to create alerts only to the city, county or state you requested but still it is possible to get reports from a store located out of your jurisdiction. In those cases, please contact us to fix it as soon as possible.

Q. Why the report doesn't contain any description?
A. We encourage users to be as descriptive as can be and to include pictures to their reports but there are a few people who choose not to share any more information than the store location and name. As previously mentioned, these reports are helpful when part of clusters that lead to outbreaks detection.
Recent Interesting Reports
Symptoms:
Diarrhea
Loss of Appetite
Nausea
Costco Wholesale, Lightcap Road, Pottstown, PA, USA
May 19, 2021 12:12 PM
"lobster ravioli Within  hours after eating the lobster ravioli Had diarrhea for several days and loss of appetite

See Less

"
McDonald's, Route de Flobecq 22, 7800 Ath, Belgium
June 9, 2021 6:41 AM
"My mom invited me to eat on Sunday, I did not refuse and I had to eat it only once. As soon as the burger swallowed I quickly caught a headache and I had a heavy stomach. Since then, we've been Wednesday, and I've got diarrhea.

See Less

"
Symptoms:
Nausea
Diarrhea
Other
Diarrhea
Headache
Stomach Pain
Body Ache
Bloating
Chick-fil-A Pewaukee, Capitol Drive, Pewaukee, WI, USA
May 17, 2021 1:25 PM
"I ate a spicy chicken sandwich deluxe with mayo, fries with honey mustard and iced tea. It started with a headache and stomach pain. Now I'm bloated, have diarrhea, body aches, and super nauseous. My friend also got sick too.

See Less

"

Chicken Salad Chick, Youree Drive, Shreveport, LA, USA
June 11, 2021 7:43 PM
"2 hrs. after eating Fancy Nancy chicken salad for lunch and approximately 2 hrs. Later I got diarrhea and sick feeling. I am still feeling bad . Cannot hold anything on stomach

See Less

"
Symptoms:
Diarrhea
Nausea
Vomiting
Other
Cramps
Bloody Stool
Shoprite Mini Marianhill, Chestnut Crescent, Mariannhill, Pinetown, South Africa
June 1, 2021 9:32 AM
"Food poisoning from ice cream Me and my son who got sick maybe after 8hours
I started to eat the ice cream i bought for there on the 17 th February 2021
After consuming it we got sick started by vomiting which soon followed by severe diarrhoea with blood , stomach cramp, abdomal pain and tiedness...

See More

I reported the matter to the store and submitt Dr note the store was gonna send the ice cream to the Lab maybe will take after 3 months due to covid offwhich up until now they never get back to me
On the 18th February 2021

See Less

"
Symptoms:
Nausea
Vomiting
June 10, 2021 6:16 PM
"Ate the triple egg bacon and sausage sandwich early mornin, felt ill all day then started to violently projectile vomit all throughout the night.

See Less

"
Symptoms:
Diarrhea
Nausea
Vomiting
Walmart Supercenter, 1920 East Markland Avenue, Kokomo, IN, USA
May 22, 2021 4:13 PM
"I made a can of chef boyardee ravioli and after fifteen minutes I got sick It was just me today. I was at home alone and I made chef Boyardees ravioli and I microwaved it for 2 1/2 Minutes I took it out after the time was up it was really hot so I let it cool off so I could eat it and after fifteen...

See More

minutes of eating it I was feeling sick and ended up throwing up and having the runs. I was literally having to be on the toilet and have a trashcan to get sick in
After fifteen minutes of eating the ravioli

See Less

"
Helpful
1 person found this review helpful
Popeyes Louisiana Kitchen, East Tucson Marketplace Boulevard, Tucson, AZ, USA
May 28, 2021 9:47 PM
"I bought number 2 chicken meal. I ate mashed potatoes and gravy- got severely sick to my stomach, one person got sick. As son as I got done eating it. Couldn't eat the chicken, however did eat the chicken battered skin. 

See Less

"
May 17, 2021 6:43 PM
"I cooked a veggie lasagna and felt sick, I thought nothing of it and now I can't stop being sick

See Less

"
Symptoms:
Diarrhea
Nausea
Vomiting
Stomach Pain
Flower Child, 2101 Cedar Springs Rd r100, Dallas, TX 75201, United States
June 2, 2021 8:49 AM
"Eating at here, My friend and I ate on Sunday 5/30 at 3:00. By 7:00 I have stomach aches and by 9:00 until 4:00 am I vomited and had diarrhea violently. The next two days I was weak and nauseous. My friend started the same process 24 hours later.  It happened on May 30/2021

See Less

"
Helpful
1 person found this review helpful