Round Table Pizza, West Court Street, Pasco, WA, USA
Location: Round Table Pizza, West Court Street, Pasco, WA, USA
Report Type: Food Poisoning
Symptoms: Diarrhea
Details: Ate a meat Pizza at round table in pasco Tuesday feb 20. Had diarrhea about 4 hours later. Ate leftovers wednesday and Friday night and had exact same results
Reported By: Iwaspoisoned.com User
More incidents from: Round Table Pizza United States Washington Pasco
Number of reports: 1
---
Comments
RECENT REPORTS
Location: Round Table Pizza, Main Street, Susanville, CA, USA
Report Type: Food Poisoning
Symptoms: Diarrhea Vomiting
Details: We ordered Pizza for dinner. Not 30mins later and everyone was feeling sick. 2 adults and 4 children in the restroom throwing up and diarrhea. Today (the day after) slight fever fatigue and nausea. I had to leave work due to this.
Comments >>
---
Location: Round Table Pizza, 8822 Madison Ave, Fair Oaks, CA, USA
Report Type: Food Poisoning
Symptoms: Diarrhea
Details: We went to round table this past Tuesday near our house. The Buffet was going so we decided to do that even though that was not our original plan. We have been ordering white sauce from round table for years because their red sauce seemed to change. My husband decided to have a piece of the regular Pepperoni because the white sauce Pizza we had requested was not out in over 20 minutes. About an hour after we got home we went to bed. Another hour later he woke up sweating and had the worst diarrhea for over 3 hours. The poor guy was SO sick and I'm so much pain we almost went to the hospital! This is not the first time it's happened but it was the worst. Lesson learned I guess. Round table used to be our favorite, something changed about 5-6 years ago. Not sure what it was but we will not be going here again. And honestly, it's way too expensive anyways considering all the amazing small business Pizza places that are around!
Comments >>
---
Location: Round Table Pizza, South Broadway Street, Yreka, CA, USA
Report Type: Food Poisoning
Symptoms: Diarrhea
Details: Ate pick up yesterday.last two times I got belly ache.everyone my family ate all got hurt belly's and diarrhea
Comments >>
---
Location: Round Table Pizza, Canyon Springs Parkway, Riverside, CA, United States
Report Type: Food Poisoning
Symptoms: Fever Nausea Vomiting
Details: boneless buffalo wings, honey bbq, Went to Round table around 7:30 pm on 12/23, ordered Ex large pepperonni Pizza and small order of Honey Bbq boneless Buffalo wings, My son ate most of Wings and Pizza and dad had 2 Wings and Pizza rest of dinner party had only Pizza and all of us only drank water to wash it down. left Pizza place not feeling bad or anything. Around midnight dad says he has stomach pain then started vomiting, then son comes down stairs saying hes feeling stomach pains and started vomiting to. All the Pizza and Wings came up for both of them but chills and vomiting stopped for dad after emptying stomach, son continued to vomit until around 5 am. Chills and nausea are continuing for son, gave son activated charcoal and monitoring his condition, if persists will seek medical attention. three others in dinner party had no boneless Wings and showed no symptoms of food poisoning.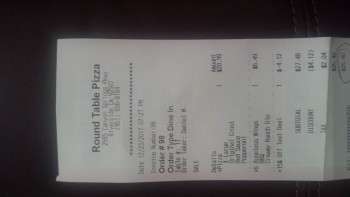 Comments >>
---