Thank you for your report!
IMPORTANT - YOUR REPORT IS QUEUED - IT MAY TAKE UP TO 12 HOURS FOR YOUR REPORT TO SHOW ON OUR HOME PAGE (IF NOT OPTED AS PRIVATE)
If your report is poison related call 1-800-222-1222 for a free consultation with a live medical poisoning expert

Visit our learn pages for more helpful information or, email us: support@iwaspoisoned.com
Goodbye! and best wishes in your recovery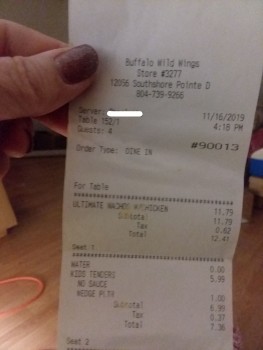 November 21, 2021 - It's possible to get food poisoning from chicken wings. The most reported product for Buffalo Wild Wings food poisoning is chicken. Chicken is responsible for more food poisoning than any other product. Between 2009 and 2015, chicken was responsible for 3,114 outbreak-related illnesses.
Buffalo wild wings