Thank you for your report!
IMPORTANT - YOUR REPORT IS QUEUED - IT MAY TAKE UP TO 12 HOURS FOR YOUR REPORT TO SHOW ON OUR HOME PAGE (IF NOT OPTED AS PRIVATE)
Visit our learn pages for more helpful information or, email us: support@iwaspoisoned.com
Goodbye! and best wishes in your recovery
You can get food poisoning from fast food. Nausea and vomiting are the most commonly reported symptoms of Rally's food poisoning. Most reports cite hamburgers and cheeseburgers as the cause of sickness, but some customers have mentioned hot dogs, chicken, and fish sandwiches as well.
Rally's
Nothing found
Recent Interesting Reports
I ordered 2 bbw dawgs and got home ate them and around 3am i started getting very sick nausia, stomach cramps, diarrhea and here it is almost 3 days later and im still having these issues and can not even eat now | Symptoms: Nausea, Diarrhea, Cramps

See Less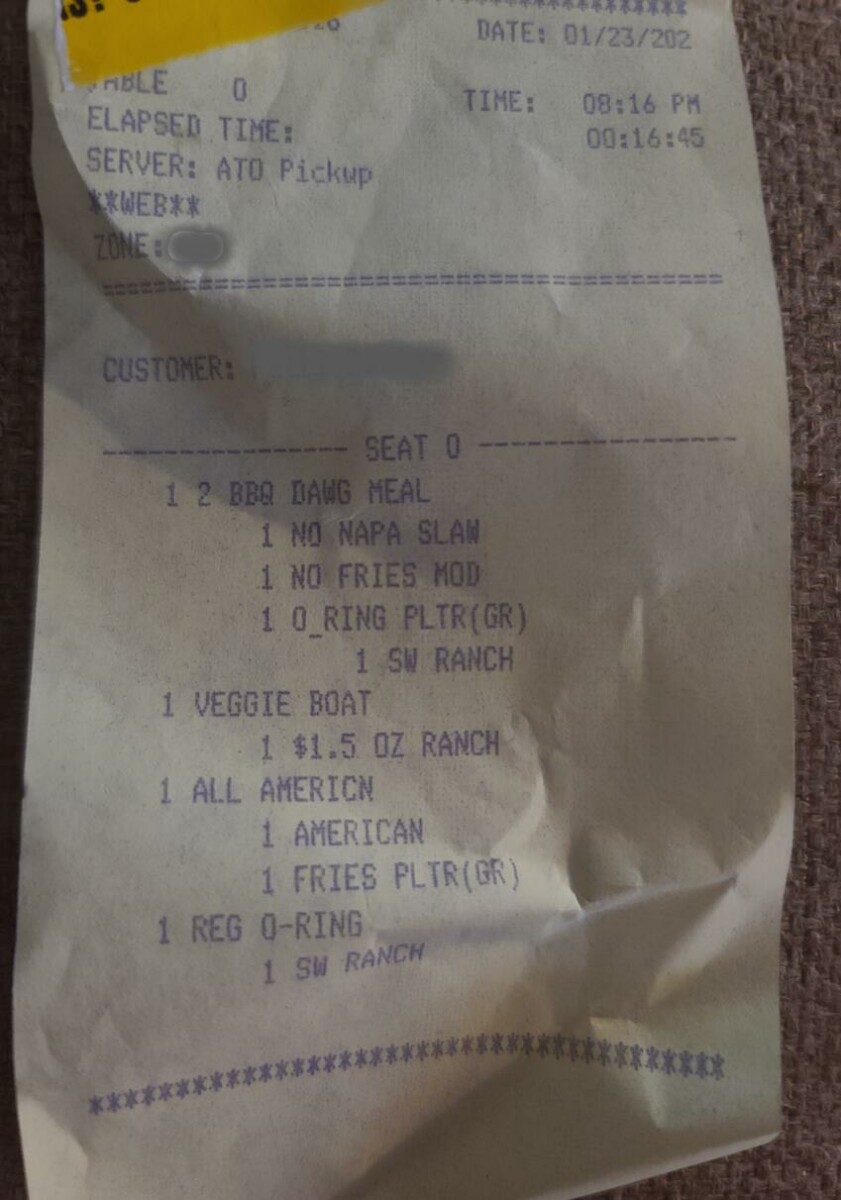 ---
---
Suspected food poisoning. Symptoms: Diarrhea, Nausea, Vomiting, Fever, Stomach Pain, Cramps, Chills, Headache
Suspected source: Beef
Onset: 6/8 hours
Duration: Started on the morning of the 5 January 2023
Additional information: Been like this since the early morning of the 5 of January 2023 still being sick...

See More

and diarrhea feel cold no energy feeling rough | Symptoms: Diarrhea, Nausea, Vomiting, Fever, Stomach Pain, Cramps, Chills, Headache

See Less
---
---
Ordered 6 cookies tonight for our 1st time. Only ate half of 4, and a bite of oreo that tasted awful. They were very doughy. Within. 2 hours my daughter and I both got headaches, nausea, and she threw up. | Symptoms: Nausea, Vomiting, Headache

See Less
---
---
Symptoms: Diarrhea
---
---
Chef Boyardee mini ravioli best by oct252024, Sick in stomach product had strange taste. Saved half the bowl. | Symptoms: Nausea

See Less
---
---
ate cup of chocolate moose tracks last wednesday , Jan 18 th 2023. with in a couple hours, I was throwing up all night with explosive diarrhea , major stomach pain, nausea, abdomen very painful, bad headache . lost work because of it. still feeling sick, painful...

See More

abdomen, diarrhea ,hard to eat anything but chicken soup, wasn't sure for sure it was the ice cream till my daughter and husband had some and they got sick too. just realized it was Strohs ice cream | Symptoms: Nausea, Diarrhea, Vomiting, Headache, Stomach Pain

See Less
---
---
Suspected food poisoning. Symptoms: Diarrhea, Nausea, Chills
Suspected source: cornbread mix or mediterranean hummus
Onset: 8-10 hours
Duration: 8 hours
Sick: just myself
Additional information: most likely the hummus, since both of us ate the cornbread and I am the only one who got sick | Symptoms: Diarrhea, Nausea, Chills

See Less
---
---
Fullei Fresh is voluntarily recalling Alfalfa Sprouts due to the detection of Shiga toxin producing E.coli (STEC.) It is a strain of e.coli which is not part of their routine e.coli O157:H7 and salmonella testing which is normally conducted on every lot produced. There have been no...

See More

known illnesses reported to date in connection with this product. The affected Fullei Fresh brand alfalfa sprout lot number is 336. They were shipped to distributors and retailers in Florida between December 9-23, 2022. No other lots or products are affected.

The lot numbers are printed on the 8 ounce retail packs and on 5 lb. bulk cardboard boxes in the barcode (the last 3 digits being 336.)

Should you be in possession of these products, please discard.

Fullei Fresh has always been at the forefront of food safety, especially knowing the concerns regarding the sprout industry. This month, the FDA conducted an unannounced inspection. 108 listeria swabs were taken and all were negative. They also pulled 34 samples of bean sprouts and 34 samples of alfalfa sprouts. The bean sprouts were all negative. At first the alfalfa were placed on hold as the initial report "could not rule out" a pathogen. Then the firm was told the results were negative and informed customers to resume distribution. Then the FDA issued an apology stating that the results were still pending and again to hold distribution. A few days later, the firm received a report without any explanation or instructions which stated "STEC recovered. No EHEC detected. No Salmonella spp. detected. No listeria spp. detected." It was discovered in 2 out of 34 samples tested by the FDA. It is very unfortunate that there has been confusion and misunderstanding regarding this specific product and lot. Fullei Fresh is doing their best to remedy the situation and communicate with all parties involved.

This recall is being made with the knowledge of the Food and Drug Administration and the Florida Department of Agriculture.

In case you are experiencing E. coli symptoms such as watery diarrhea (often bloody), vomiting; stomach cramps; and mild fever, it is important to report it. It can help to detect & resolve outbreaks early and prevent others from being harmed, and it enables better surveillance. If symptoms persist, seek medical care.

Company name: Kwokcheng Enterprise, Inc. dba Fullei Fresh
Brand name: Fullei Fresh
Product recalled: Alfalfa Sprouts in 8 oz clamshells
Reason of the recall: Contamination with shiga toxin-producing E. Coli
FDA Recall date: January 09, 2023

Source: fda.gov

See Less
---
---
RappelConso issued a recall of Monoprix gourmet 4 slices of smoked salmon ASC due to the presence of listeria monocytogenes. This product was distributed by Monoprix nationwide in France.

The recalled product is Monoprix gourmet 4 slices of smoked salmon ASC, Sous vide - 160 g, with...

See More

codes:
• GTIN 3350033876064 Lot 01001033 best before date: 02/09/2023
• GTIN 3350033876064 Lot 01001033 best before date: 02/14/2023

Packaging: Vacuum bag in a cardboard box.
Storage temperature: Product to be stored in the refrigerator
Health mark: FR 62 667 200
Geographical area of sale: France
Distributors: Monoprix
Publication date: 01/26/2023
Reason for recall: Listeria monocytogenes
End date of the recall process: 02/14/2022

If you have the recalled product in your home, please do not eat it, throw it away or return it to the place of purchase for a refund.

In case you are experiencing Listeria monocytogenes symptoms such as high fever, severe headache, stiffness, nausea, abdominal pain, and diarrhea, it is important to report it. It can help to detect & resolve outbreaks early and prevent others from being harmed, and it enables better surveillance. If symptoms persist, seek medical care.

Source: rappel.conso.gouv.fr

See Less
---
---
Rappel Conso announced the recall of Isla Delice Smoked Flavor Chicken matchsticksdue to the presence of Listeria monocytogenes. This product was distributed nationwide in France.

The recalled product is Isla Delice Smoked Flavor Chicken matchsticks, 2x100g (1AP203000), GTIN 3512690003393 Lot 30130014 best before sate 02/20/2023

Packaging: Plastic...

See More

tray 2x100g
Marketing date: 01/14/2023
End of marketing date: 01/20/2023
Storage temperature: Product to be stored in refrigerator
Health mark: FR 01 336 002 CE
Geographical zone of sale: All France
Distributors: 4 trays concerned; distributed by Epinal Supermarket, El Baraka Supermarket, TAD Market
Publication date: 01/24/2023
Reason for recall: Presence of Listeria Monocytogenes
End date of the recall process: 02/07/2023

If you have the recalled product in your home, please do not eat it, throw it away or return it to the place of purchase for a refund.

In case you are experiencing Listeria monocytogenes symptoms such as high fever, severe headache, stiffness, nausea, abdominal pain, and diarrhea, it is important to report it. It can help to detect & resolve outbreaks early and prevent others from being harmed, and it enables better surveillance. If symptoms persist, seek medical care.

Source: rappel.conso.gouv.fr

See Less
---
---
Last 30 days