Thank you for your report!
IMPORTANT - YOUR REPORT IS QUEUED - IT MAY TAKE UP TO 12 HOURS FOR YOUR REPORT TO SHOW ON OUR HOME PAGE (IF NOT OPTED AS PRIVATE)
Visit our learn pages for more helpful information or, email us: support@iwaspoisoned.com
Goodbye! and best wishes in your recovery
It's possible to get food poisoning from Korean Japanese food. Vomiting and nausea are the most commonly reported symptoms of KoJa Kitchen food poisoning and a commonly mentioned item is the original KoJa. Recently a location has received multiple reports and was cited for high-risk violations.
Last updated: December 10, 2022
KoJa Kitchen
Claimed
Take our food poisoning Quiz!

Recent Interesting Reports
my toddler and I were snacking on these when I bit into SEVERAL chips that were so hard I couldn't split them with a knife. not sure if something happened with the formula or if there is foreign contaminants in the bag. Afraid to break my teeth...

See More

I spit it out and could not split it with a knife. Purchased on GoPuff in SanDiego, CA.
This was a fresh, unexpired, unopened bag.

See Less
---
---
We bought the wagyu beef burgers on Saturday 9 th cooked them well on Saturday night , by Sunday morning 1 of my sons started with diarrhoea continued all day then by that evening my 2nd son started with diarrhoea and then by Monday morning I started...

See More

with sickness and diarrhoea.
We have stomach cramps , and feel pretty unwell . | Symptoms: Nausea, Diarrhea, Vomiting, Cramps

See Less
---
---
Bought a box of Fruity Pebble Treat bars and within 24 hours severely sick, Nausea, Vomiting and Diarrhea. Checked the best by date and they had expired 07-11-2023. Today's date, 09-12-23 | Symptoms: Nausea, Diarrhea, Vomiting

See Less
---
---
My husband and I went to eat chipotle last night. I ate a chicken bowl without sour cream. My husband ate a chicken burrito with sour cream. We have been up for the past hrs. He is experiencing vomiting, severe abdominal pain, chills, sweats, and fever. I...

See More

believe the sour cream was contaminated.on 9/05/2023 at 8:27PM | Symptoms: Nausea, Vomiting, Fever, Chills, Sweating

See Less
---
---
Had a chicken and bacon wrap, had this weird bit in it, the chicken felt chewy and off, and was slightly pink. I've had food poisoning since then, I've seen my doctor who thinks it is food poisoning. | Symptoms: Nausea, Diarrhea, Vomiting

See Less
---
---
Tonight Not sure.. it happened as soon as I ate the pizza from little Ceaser Stabbing stomach pains, then bathroom. Woke up around 3:45 am this morning, with stabbing pain again, had another round of diarrhea | Symptoms: Stomach Pain, Diarrhea, Other

See Less
---
---
Had a big Mac meal yesterday 09/19/2023 and at 4:30AM 09/20/2023 threw it all back up. I felt and still am sick, my stomach is unsettled, I was extremely hot, had a fever. | Symptoms: Vomiting, Fever

See Less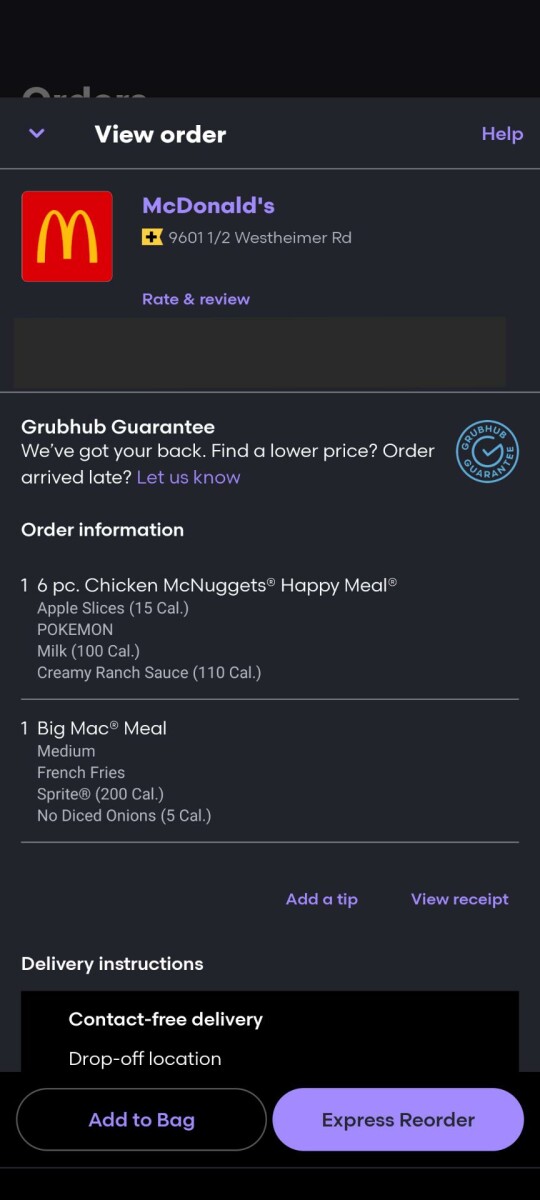 ---
---
I ordered two for $7 mozzarella and Arby melt. It maid my stomach very very sick and I vomited almost right after I ate it. The food has a poisonous taste to it. | Symptoms: Nausea, Vomiting

See Less
---
---
Headache, Unpleasant Want to vomit High blood pressure | Symptoms: Nausea, Headache

See Less
---
---
My husband had the kung fu cauliflower and kale cesear salad. Within one hour he started experiencing nausea, diarrhea, cold sweats, headache and cramps. | Symptoms: Nausea, Diarrhea, Vomiting, Cramps, Headache, Sweating

See Less
---
---
Last 30 days