Thank you for your report!
IMPORTANT - YOUR REPORT IS QUEUED - IT MAY TAKE UP TO 12 HOURS FOR YOUR REPORT TO SHOW ON OUR HOME PAGE (IF NOT OPTED AS PRIVATE)
If your report is poison related call 1-800-222-1222 for a free consultation with a live medical poisoning expert

Visit our learn pages for more helpful information or, email us: support@iwaspoisoned.com
Goodbye! and best wishes in your recovery
You can get food poisoning from custom made sandwiches. The most common symptoms of Which Wich food poisoning are diarrhea and nausea. Sandwiches can cause illness because they can contain high-risk foods such as raw vegetables like lettuce and tomatoes and processed ingredients like deli meats.
Which wich
Updated: February 17, 2021 8:43 PM
Recent Interesting Reports
Symptoms:
Diarrhea
Other
Bloody Stool
Krispy Kreme, Wesley Chapel Road, Decatur, GA, USA
February 17, 2021 9:09 AM
"My wife and I ordered a dozen of their Valentine's Day donuts and have a bad case of painful diarrhea for 2 days now. Small amount of blood in stool. First time eating here

See Less

"
Helpful
1 person found this review helpful
Symptoms:
Nausea
Diarrhea
Vomiting
Headache
Stomach Pain
Starbucks, Broadway, New York, NY, USA
February 23, 2021 6:49 PM
"I got food poisoning from there caramel Frappuccino 30 minutes after. I had no energy to get home so I had to laid on my 9 years and be on his side. It was frustrating. I got vomiting, diarrhea, nausea, stomachache, headaches and I cannot eat.

See Less

"
Symptoms:
Nausea
Diarrhea
Vomiting
Zaxby's Chicken Fingers & Buffalo Wings, Knightdale Boulevard, Knightdale, NC, USA
January 28, 2021 2:42 PM
"I ate their grilled chicken cobb with ranch dressing and 25 minutes later became violently ill. I have saved the unopened and open pack of ranch and part of the salad to take to wake med to test for bacteria.

See Less

"

Symptoms:
Nausea
Vomiting
Papa John's Pizza, 7200 Normandy Boulevard, Jacksonville, FL, USA
February 4, 2021 4:21 AM
"I ordered on February 3rd at 8:16 pm. Later that night I was feeling nauseated and I threw up at 3:54 am.

See Less

"
Symptoms:
Nausea
Diarrhea
Vomiting
McDonald's, East Redlands Boulevard, San Bernardino, CA, USA
February 9, 2021 2:27 PM
"Cheese burger and french fries

See Less

"
Helpful
1 person found this review helpful
Chipotle Mexican Grill, Crawfordsville Road, Speedway, IN, USA
February 6, 2021 5:49 PM
"I eat here 2-3x a week. I had it tonight (burrito bowl, no cheese, no sour cream with cauliflower rice) and I've been so sick with constant diarrhea. It'a awful!

See Less

"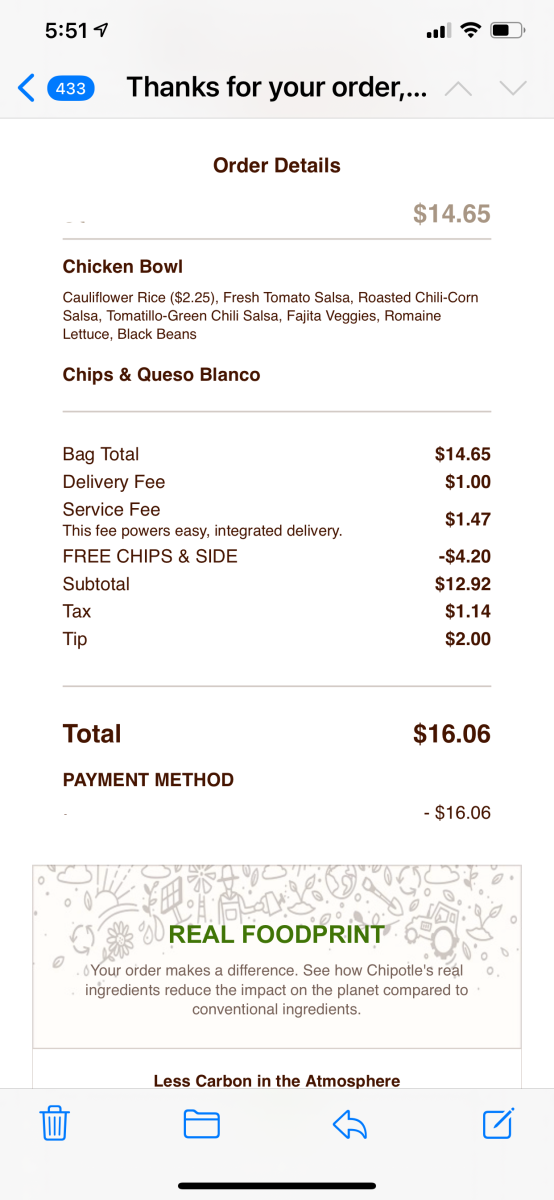 Symptoms:
Nausea
Diarrhea
Vomiting
Pizza Hut, West Silver Spring Drive, Milwaukee, WI, USA
January 29, 2021 11:46 AM
"The last thing I ate was boneless wing garlic Parmesan 1/27/2021 and I started feeling nauseous and had diarrhea around 11pm

See Less

"
Symptoms:
Nausea
Diarrhea
Vomiting
Other
Cramps
Koji Express Japanese Grill - West, Franklin Road, Murfreesboro, TN, USA
January 29, 2021 11:23 AM
"30 mins after eating there I had horrible stomach cramps and I was up and down all night on the toilet. I got chicken hibachi with zucchini, onions and sweet carrots and a side of broccoli and rice.

See Less

"
Symptoms:
Nausea
Diarrhea
Vomiting
Other
Cramps
Chick-fil-A, South State Street, Sandy, UT, USA
February 10, 2021 10:00 AM
"I had a spicy deluxe meal on 2/9 at around 7pm. I went to bed with a rock in my stomach and woke up at 3am with vomiting and diarrhea and painful stomach cramps.

See Less

"
Symptoms:
Diarrhea
Headache
February 12, 2021 6:33 PM
"Thin mints  Just me but diarrhea and headache.  Today and yesterday

See Less

"
Helpful
1 person found this review helpful