Thank you for your report!
IMPORTANT - YOUR REPORT IS QUEUED - IT MAY TAKE UP TO 12 HOURS FOR YOUR REPORT TO SHOW ON OUR HOME PAGE (IF NOT OPTED AS PRIVATE)
Visit our learn pages for more helpful information or, email us: support@iwaspoisoned.com
Goodbye! and best wishes in your recovery
It's possible to get food poisoning from pizza. The most commonly reported symptoms from Pizza Factory are diarrhea and nausea. Possible Foodborne illness issue from pizza typically comes from the dough. Uncooked and undercooked pizza dough is a raw food and could contain Salmonella or E. coli.
Last updated: February 7, 2023
Pizza Factory
Take our food poisoning Quiz!

Recent Interesting Reports
Byron Bay Superfoods pty ltd​ is recalling Wallaby Cookie Dough Bites Double Chocolate Hazelnut and Wallaby Cookie Dough Bites Chocolate Macadamia due to a potential dairy (milk) allergen contamination. These products have been available for sale at Woolworths nationally and independent health food retailers in South Australia...

See More

and New South Wales. ​​

The recalled products are:
- Wallaby Cookie Dough Bites Double Chocolate Hazelnut, All Best Before Dates up to and including 21/09/24
- Wallaby Cookie Dough Bites Chocolate Macadamia, All Best Before Dates up to and including 21/09/24

Consumers who have a milk allergy or intolerance should not consume these products.

In case you experienced harm from allergens or undeclared ingredients, it is important to report it. It can help to detect & resolve issues and prevent others from being harmed, and it enables better surveillance. If symptoms persist, seek medical care.

Source: foodstandards.gov.au :443/industry/foodrecalls/recalls/Pages/Byron-Bay-Superfoods---Wallaby-Cookie-Dough-Bites-.aspx

See Less
---
---
Suspected food poisoning. Symptoms: Nausea, Vomiting, Stomach Pain, Chills, other: Dizziness
Suspected source: Food poisoning, vertigo
Onset: 4 to 12 hours
Duration: other: Just started as I woke up hour ago
Additional information: Bowel movement | Symptoms: Nausea, Vomiting, Stomach Pain, Chills, Dizziness

See Less
---
---
Today, Sep. 9 at Habit Burger Grill at 2000 S. Bascom Ave., Campbell, CA 95007, Store # 0127 I ordered Double Char ChzBurg no that was it | Symptoms: Diarrhea

See Less
---
---
Suspected food poisoning. Symptoms: Nausea, Vomiting, Stomach Pain, Chills
Suspected source: chicken sandwich from there
Onset: Right away
Duration: 4 to 12 hours | Symptoms: Nausea, Vomiting, Stomach Pain, Chills

See Less
---
---
My stomach got super bloated, I felt sick about 30 minutes after eating it and developed body aches, fever and chills | Symptoms: Fever, Chills, Body Ache, Bloating

See Less
---
---
Today, 11/09/23, I didn't have a snack. I arrived at Mc Donald da Solum's establishment in Coimbra and even during the meal, I felt horrible cramps. I evacuated abundant liquid ejection. I only associate it with this meal. This story mainly serves to prevent more people from...

See More

going through this. They have to investigate the contamination. | Symptoms: Diarrhea, Cramps

See Less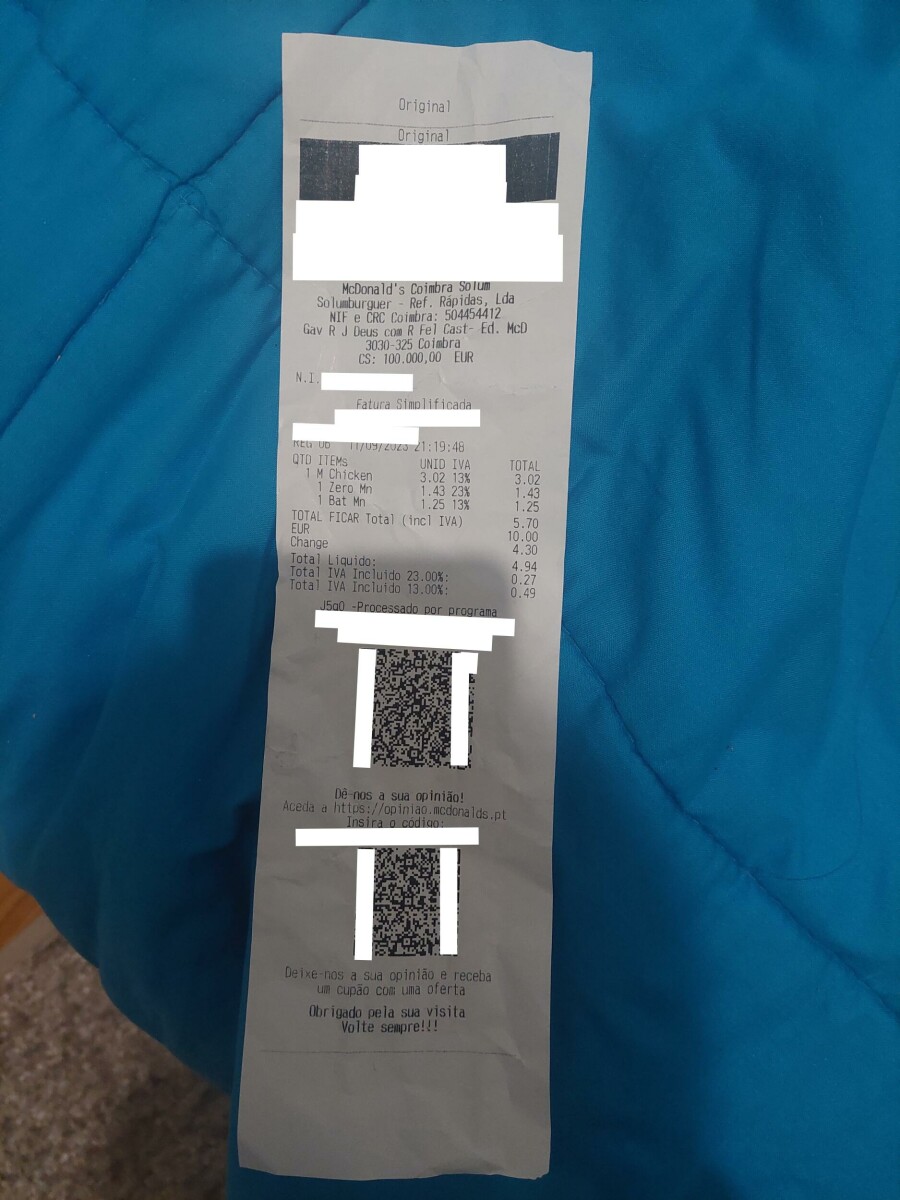 ---
---
Both my son and I experienced diarrhea and nausea after eating some of the pizza we ordered. Not even all of it. He puked everywhere. Took the remaining pizza back to the store because they refused to answer their phones. Was told they can't issue a refund...

See More

and need to contact their district Mgr. Super mad. | Symptoms: Nausea, Diarrhea, Vomiting

See Less
---
---
Suspected food poisoning. Symptoms: Vomiting, Fever, Stomach Pain, Headache
Suspected source: Either takeout pizza or the eating from the tube of ice cream I also ordered.
Onset: Less than 4 hours
Duration: 4 to 12 hours
Additional information: Consumed tpizza at 5pm, consumed the ice cream around...

See More

9.30pm. Felt sick and feverish (clammy sweaty) about 10.15pm but eventually threw up about 10.30pm. Mostly ice cream but some of the pizza toppings were in there too. | Symptoms: Vomiting, Fever, Stomach Pain, Headache

See Less
---
---
RappelConso announced the recall of TALLEC Old Fashioned Ham AC Cooked in a cloth due to the presence of Listeria monocytogenes. This product was distributed nationwide in France by Monoprix.

The recalled product is:
- TALLEC Old Fashioned Ham AC Cooked in a cloth. GTIN 3268680020474 Lot...

See More

02324109 Use-by date 10/01/2023.

Packaging: vacuum-packed
Marketing date: 08/29/2023
Marketing end date: 08/30/2023
Storage temperature: Store in the refrigerator
Health mark: FR 29 004 023
Geographical area of sale: Entire France
Published on: 09/04/2023
Recall End Date: 10/02/2023

If you have the recalled product in your home, please do not consume it.

In case you are experiencing Listeria monocytogenes symptoms such as high fever, severe headache, stiffness, nausea, abdominal pain, and diarrhea, it is important to report it. It can help to detect & resolve outbreaks early and prevent others from being harmed, and it enables better surveillance. If symptoms persist, seek medical care.

Source: rappel.conso.gouv.fr

See Less
---
---
Ordered a burrito with chicken, guac, brown rice, fresh tomato salsa, sour cream, fajita veggie, cheese, and romaine lettuce. I deliberately avoid beans from my order to see whether they might be the source of my bloating. Shortly after completing my meal, I experienced a stomachache along...

See More

with pronounced bloating and gas. I experience the same symptom every time I eat Chipotle, I wonder what is the cause. | Symptoms: Diarrhea, Bloating, Gas, Stomach Pain

See Less
---
---
Last 30 days